About Us...
Founded by John Shamshoian in 1991, Realty Concepts is a real estate brokerage with offices in Fresno, Clovis, and Oakhurst. Over the years, Realty Concepts has expanded to serve the Central Valley successfully, while maintaining our integrity and close-knit family atmosphere. Our agents are local experts, with deep ties in their communities and a dedication to meeting each of their clients' needs.
At our core, Realty Concepts is a family first and a company second. By placing people before profits, we have created a culture wherein our agents are empowered, our communities are served, and our clients are cherished. "We're obsessed with our culture. We don't run our business like a business. We see Realty Concepts as a mission: to serve our Realtors so they can serve their clients," explains J.P. Shamshoian, CEO and Owner of Realty Concepts.
At Realty Concepts, our values are simple: quality before quantity, service before sales, people before profits, you before us. Every day, we work to deliver on that promise.
Contact Us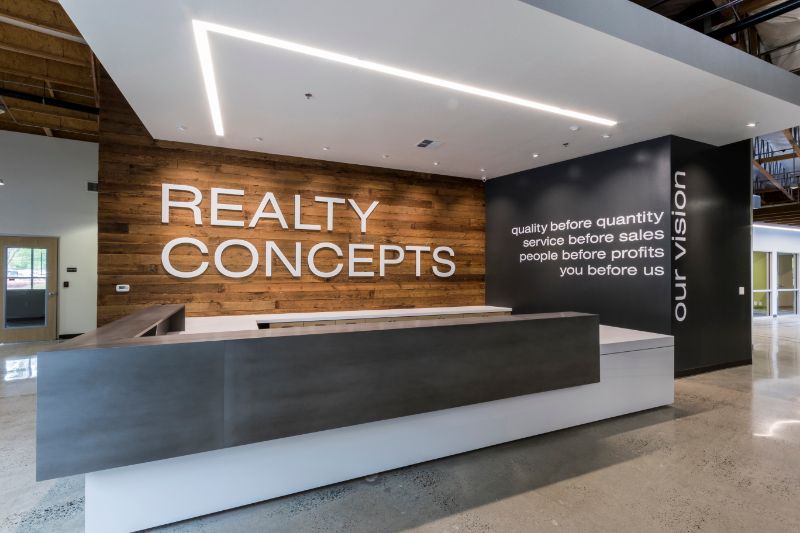 The RC Difference
Realty Concepts and our Realtors® have a reputation for holding ourselves to the highest ethical standards, working smarter than anyone else in the business, and always putting our clients' needs before our own. In an office full of ambitious high performers, vibrant personalities, and strong voices, we have created a loving, team-oriented, and truly unique family here.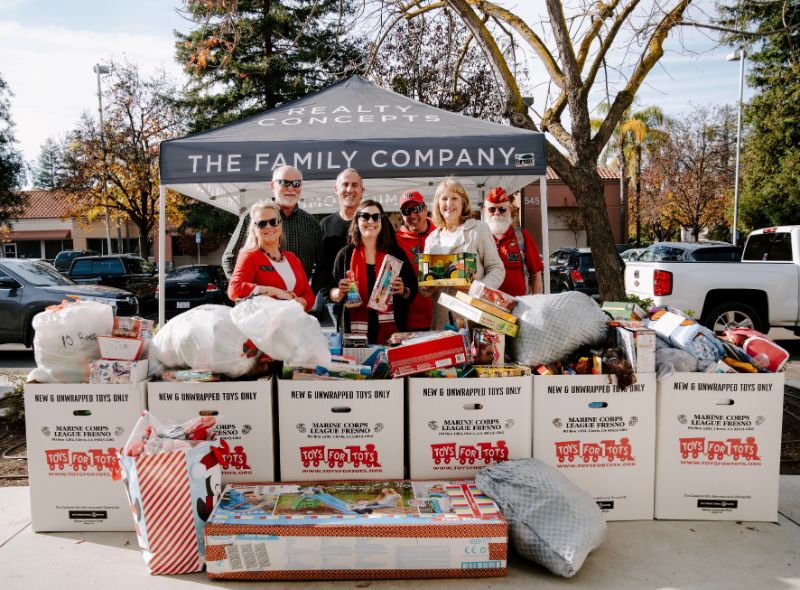 RC Cares
RC Cares is our outreach program, conducting multiple fundraisers every year to give back to our community. Its volunteers consist of RC agents and staff that love to uplift our beautiful community in any way that they can. With our yearly school supply, blood, food, and toy drives, we are able to help the communities that we work in. We also support our local firefighters and police departments with our Hearts for Heroes campaign where we deliver home-baked goods and hand-written thank you cards to their stations. We also contribute to numerous other campaigns throughout the year.
Testimonials
" It has been many years since we have needed the services of a Realtor. The home that Sheri sold for us, we have lived in for over 50 years. Our oldest som pointed out to us that there have been many changes in the Real Estate Market and that we needed the help of someone who knows how it works.! Sheri Bush had helped our son in other Real Estate matters, and she proved to us that we needed her kind of help. She went well beyond our expectations . She is the reason our home sold quickly and cleanly. We will recommend her in the future to anyone interested in buying or selling real estate. She was always available and open to our questions with just the right answers to them. "
- Russ and Tess Mott
" Shari is life !! If you're looking for some who is well knowledgeable on real state, this is the agent you want to call, she is there 24/7 ( don't be mean and give her days off hehe) but seriously she makes you feel like she got your back in the whole transaction of buying your house, she makes the process feel super easy, and she does answers all your questions at anytime. To me is important that agents knows people/connections and she sure does ( I believe and connections helps a lot ) so my experience with her was amazing and I'll recommend her a 1000 times, cuz her negotiations skills are the cherry on the top of the cake. "
- Pedro Duarte
" Sheri is very knowledgeable, patient, and assertive. She made our experience during this crazy seller's market much less scary and frustrating, and kept us sane! "
- Krystle Schmidt
" Sheri was kind, professional and fun to work with. In one week I was approved, an offer was made and accepted. On top of that we closed early! I am now the proud owner of my first home, thank you Sheri "
- Matthew Martin
" Patience is the key and Sheri has this nailed! We were at odds deciding on what our ideal home was. Sheri was wonderful in taking us to property after property as we found flaws here and perfections there but never the right fit. Despite our indecisiveness and frustration, she never gave up! EIGHT MONTHS later she was there as we entered our "new" home and for the next TWO DAYS she worked side by side with us as we sorted through a calamity of construction errors. Our panic was quickly calmed by her cool demeanor and through her guidance and assistance, what seemed like an endless mountain of stress became a small hill of solutions. Sheri, you are a great Realtor but more so, an AMAZING PERSON. I can't tell you how much we appreciate all you've done for our family. Accurate, loyal, precise, knowledgeable, intuitive, solution driven, and a genuinely nice person. I am so very grateful to have had you on our side all of this time. THANK YOU SHERI! "
- Julie Ann Cavanaugh
" Sheri is the consummate professional. She is hardworking, knowledgeable and smart. Her positive energy is palpable and she makes the experience of selling your house an absolute delight. She knows how to show your home in its best light --- in both first rate photos and real life tours. When she first met with us and said: "we can sell your house in one weekend," we thought that might be overly optimistic. We were wrong! After working side by side with her and following her lead about how to present the home to buyers, we received a thick pile of offers. 3 days! 7 offers! One sale at a great price. And one fantastic real estate broker: Sheri Bush. "
- Mike Glassberg
" Very pleased with her experience in selling my house. Great communication and timely. Would recommend. "
- Rachel Garduno
" Sheri Bush did excellent & persistent work for me as my now, purchasing agent. After building a home 28 years ago & selling it with Sheri's expertise, we ventured into finding me a new home. I had a contingency until My Home closed escrow. It was discouraging. Four offers we not successful. My daughter welcomed me into her home for 7 weeks. I then put in my 5 th offer, & three days before escrow closed, escrow was cancelled by the sellers. Cancel movers, PODS delivery, utilities, home owners insurance & my Mail Forwarding! I got on my computer that night , found homes to look at Sat & Sun- Sheri was there for me. By Sat evening we had found the home that was meant for me, it had taken loads of patience on my part, & Sheri's continuing reassurance that house #5 wasn't the home I was to have. My offer was accepted, the sellers gave Sheri & me a two hour tech tour, while I was doing my final walk through. I moved a week ago, still have boxes throughout my new custom 2,500+ sq ft home, & I'm loving it more everyday. I knew as soon as I saw the interior, I was HOME. Well cared for, updated, & friendly neighbors. I know I'll enjoy many years in my new home. "
- Patricia A Tierce (Te)
" 5 stars all the way. We have worked with Sheri on a couple of Estate Liquidations prior to her clients house closing escrow. She has been amazing to work with ! She is efficient , hard working and ensures that the job gets done in a timely manner. She will do whatever it takes to get it done. We love Sheri and always look forward to working with her. "
- Juli Solaegui
" Sheri was amazing! She helped me and my family purchase our first home. We were on a time limit and she fought for us every single day to get us into a home. Sheri was super responsive and I can't thank her enough for all her help with our home purchase. If I could give her more stars I totally would! She was super helpful and would answer me questions immediately. Love Sheri ❤️ "
- Faby C.
" This agent does more for her clients to help sale their property than I have ever dealt with before. Pulls weeds, mops, meets handyman to get work done. Then has your back on the closing end. Know a good buyer from a bad. Because most people rarely deal with selling their home they just don't realize how exceptional she is. "
- Rosemary
" Sheri Bush is a very customer service oriented realtor. Although my escrow was cancelled due to the Sellers not purchasing their new home, she and her broker did everything within their knowledge and expertise to make a go of our escrow, Sherri and I spent several hours yesterday looking for a new home, I need to be settled by the end of September. She set up several showings and we made it to a couple of open houses. We were both very disappointed in the cancellation of escrow three days before closing, but I'm confident with Sheri we'll make it though the purchase & escrow process. She doesn't want me to be "homeless". Great realtor, stays on top of multiple client processes, and very timely in her communication with me. "
- Patricia A Tierce (Te)
" Helped fight for what I needed and wanted. Answered questions and concerns promptly. "
- Zachariah F.
" I travel extensively for work and really needed someone to handle every aspect of the sale of my home from cleaning, staging, negotiating, meeting vendors, taking care of the dogs during showings, etc. She far exceeded my expectations and got a great price and quick sale while also finding me an awesome realtor for the new state I moved to. Sheri was always available to clearly answer any questions I had and it really couldn't have been easier. I highly recommend her if you're looking for a responsive realtor who goes above and beyond, has a real passion for what she does, and puts her clients over anything else. "
- Marlon
" I travel extensively for work and really needed someone to handle every aspect of the sale of my home from cleaning, staging, negotiating, meeting vendors, taking care of the dogs during showings, etc. She far exceeded my expectations and got a great price and quick sale while also finding me an awesome realtor for the new state I moved to. Sheri was always available to clearly answer any questions I had and it really couldn't have been easier. I highly recommend her if you're looking for a responsive realtor who goes above and beyond, has a real passion for what she does, and puts her clients over anything else. "
- Marlon
" Sheri went above and beyond in every aspect of the sale of our home from the very beginning. She helped us with advice (and people) to fix things before we were going to sell. She gave great advice as to staging. She was creative in marketing our house. She came over and took care of things when I had to be out of town. She gave excellent advice in going over all the offers she helped us get(12 all above asking price!) She was professional in all she did. She is the best agent we have ever dealt with. I can't say enough good things about her. I have and will recommend her to everyone I know who is looking to sell or buy. "
- Kiki Wells
" Sheri was amazing through the entire process of selling our house. She helped us come up with a price that would get us the traffic and offers we wanted. She helped stage the house and made sure it was decluttered and sparkling when her photographer took the marketing photos. Sheri managed the showings and negotiations so they didn't overwhelm us. And once we had a contract she and her staff kept the process going to the closing. And if that wasn't enough, Sheri really helped us move; finding a person who could do a moving sale while we were out of town and helping with final packing and cleaning. Sheri came over on moving day with donuts for everyone. Then our cat decided to runaway! Sheri went over to the house twice after we had gone to the hotel and was able to catch a spooked cat and bring him to us! Thank you Sheri! We couldn't have done it without you! "
- Margot Karlin
" Sheri has been fantastic in finding a house for us. We are relocating to Fresno and because we are moving from out of state, we needed her to be our eyes and ears for us. She was there every step of the way for us! Friendly, super responsive and fabulous in every way!!! I give her 5 stars!! "
- Soo
" Sherri was referred to me by a trusted friend and financial adviser. I recognized immediately that she knew her business and the market. She comes with endless referrals of her own to all the services a seller might need along the way. She takes what is typically a stressful situation and simply guides you towards your desired outcome. She is an absolute pleasure and I wouldn't have wanted to rely on anyone else. Trust her as your agent and you'll be referring her yourself in very short order. "
- Mark Leanhart
" Wonder Woman + Lucille Ball + Mother Theresa = SHERI BUSH I needed to sell my 3,400 square foot home, move to another city , and open a new business within 3 months. I was working full time and raising my daughter solo who was about to graduate high school. I was STRESSED. I couldn't have imagined how difficult this would be. Fortunately my buying agent did an extensive search to find the best selling agent in Fresno. After a great interview and glowing recommendation from her supervisor, Sheri Bush was introduced to me. Before listing my home, we both decided that several simple improvements and repairs should be done. I needed to hire a handyman, window cleaner, carpet cleaner, roof inspector, and painter. Sheri immediately offered reputable recommendations , help with scheduling , and to meet various contractors for appointments. I desperately took her up on the offer. When I needed supplies she offered to go to the store. Sheri loves staging and offered to help me. She spent 8 hours with me on a Saturday, planning, shopping and actually decorating. This was exhausting but enjoyable and fun! I was completely blown away and surprised because I've never known anyone more dedicated to their work who so wholeheartedly does their job as Sheri. My house was not the easy sale we had anticipated based on the comps. The process took 3 months and Sheri was always there. Every detail taken care and organized. Sheri's calm sweet southern accent, positive attitude, and smile are priceless gifts. We had lots of laughs due to her great sense of humor. My 2 dogs and 5 cats are happier because she's great with animals and always gave them attention. She even cleaned my pool after a windy day and tidied up inside and out before an open house or showing if needed. Sheri is very intelligent, a great negotiator, and explains things well. She is always on time, is energetic, polite, and motivated. She (almost) always picks up the phone and returns texts or emails within minutes (she has a life). She always finds a solution when there is a problem. She is well connected in the community. She remarkably finds time to volunteer for many charities. She works out almost daily and lives up to her title of 'The Running Relator'. She is trustworthy. My house was successfully sold because Sheri was my agent. I had the unexpected pleasure of working with an amazing woman. I can't imagine going through this process with a more qualified and caring professional. She is a gem and I recommend her highly. Deborah Moore, Nurse Practitioner "
- Deborah Moore
" Did an amazing job and will be using Sheri when we purchase our next home as well sell our other home. Thank you for all your hard work!! "
- Greg
" Sheri was extremely professional, helpful, and easy to work with. Offered excellent advice while always representing my needs and desires. I'd highly recommend using her and I will definitely use her again. "
- Jason Miller
Previous
Next